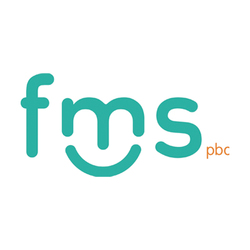 Staffing Coordinator
Louisville, KY
Health Insurance, 401K / Retirement plan, Paid holidays, Paid vacation
Facilities Management Services is the only janitorial/cleaning service in the world to be a certified BCorp and we are committed to our social mission: to provide opportunity and access for our employees and help the communities where we live thrive. Come and join our family and be a part of something special!

The FMS Staffing Coordinator takes pride in being part of the FMS Story and instills that pride in others. As a Staffing Coordinator, you positively engage our current and potential workforce. Exhibit a strong work ethic, self-motivation, the discipline to follow procedures, organizational and planning skills and a positive, friendly attitude. Enjoy working directly with the public, our team members and our customers. Take pride in successfully recruiting, onboarding and retaining new team members to be a part of the story. Most importantly, contribute to a positive, team-oriented environment and be a champion of FMS core values and mission.

The FMS Staffing Coordinator reports directly to the Hiring & Recruiting Manager.

We offer Benefits as listed as well as Bonus Potential and Opportunity for Growth.
Work hours are 1st into 2nd shift hours (evening) Monday-Friday with occasional weekend hours as needed.

Apply using quick apply with resume uploaded or visit our website - see apply buttons.
• High School Diploma or GED
• Previous experience desired
Fundamentally, as an FMS team member, you are:
• Kind
• Positive
• A good communicator
• Organized
• Enthusiastic
• A role model
• Honest
• Driven to succeed and grow with FMS
• Ready to handle challenges
• Self-motivated
• Excited to help and work with others
• Reflective
Duties include but are not limited to:
• Understanding the needs of our workforce and the greater communities in which we live
• Showing each and every person you interact with that you care and understanding the supportive role you play to operations as a member of the HR team
• Acting out FMS's core values and mission
• Building relationships with FMS leadership and spending time in the field learning the accounts
• Being aware of all HR initiatives and able to communicate them to others
• Participating in all HR driven programs and events
• Understanding the staffing needs of FMS
• Maintaining and updating openings daily using FMS tools and technology
• Utilizing Kwantek software to post and maintain job openings daily. Work with the branches to ensure job postings are up to date
• Conducting daily application review and maintaining application flow utilizing Kwantek software
• Setting up and coordinating interviews for FMS leadership and HR
• Assisting with the application for walk-ins
• Conducting interviews
• Participating in FMS recruiting methods to include but not limited to: job fairs, face-to-face communication with current frontline staff, drafting and ordering job ads for the branches, community partnerships, etc.
• Promoting FMS to Good People wherever you go
• Understanding and cross training on running backgrounds for potential new hires
• Conducting drug screens and completing Medtox drug test
• Updating access forms and sending required access documentation to specific accounts(UPS, Bellarmine, Raytheon, etc.) within 24 hours of orientation
• Communicating access completion to Operations within 24 hours of orientation
• Communicating new hire information to supervisors
• Coordinating Transfers with operations team
• Reviewing rehire status for reapplying candidates
• Understanding and teaching how clean spaces impact clean environments, therefore promoting healthy communities.
• Understanding how new hire orientation relates to ongoing training to our frontline staff once they are in the field
• Adhering to the policies and procedures in the FMS employee manual
• Maintain on boarding supplies and inventory (uniforms, interview guides, drug test, new hire packets, etc.)
• Ensure that new and existing employee needs are being met by being responsive and quick to follow up
• Understand and work within a budget for help wanted and office supply needs
• Conduct post orientation follow up phone calls
• Cross train as a back-up for the reception area for greeting walk-ins and answering calls
Be able to:
• Lift, push or pull objects up to 40lbs.
• Spend many hours a day traveling between facilities and walking
• Be flexible in work hours
• Be on your feet for extended amounts of time
• Reach and bend with some regularity
• Work in difficult environments
• Utilize FMS software as required, including but not limited to: Microsoft Word, Excel, Outlook and a smartphone
• Monday-Friday, 1st into 2nd shift (evening) as needed. Occasional weekend hours as needed.
6562095